..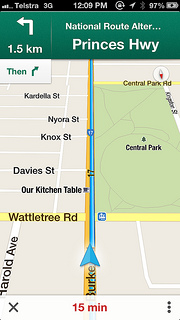 Google Maps iOS app has reborn in the App Store on 12/12/12. It should have been a big thing but surprisingly not that many people is aware of it. Or at least Google didn't make a big fuzz about it. Interestingly enough, when I search for "Google Maps" on App Store, it didn't even pop up in the first two pages. Bad SEO by Google or doggie trick by Apple?
About the product, my user experience on this so far is very positive. It is a mobile product and its design is optimised for mobile. In a mobile scenario we usually want to achieve a very focus objective in a very short time frame. For this case, we are not a tourist trying to appreciate the scenery. Therefore, we don't need the 3D world in Apple Maps. (I love to view it in toilet when I am bored — and when I have WiFi, but that's about it.) Rather, we often want to get to an unknown place via the best route. Google strikes for the simplicity around this clear user goal and that's how it is better: With Google, things always start with Search, and so the unknown is not a matter anymore. And for the best route, they use TomTom.
I have been using TomTom for driving direction. I get the same instruction here as TomTom and Apple Maps because after all it is all driven by TomTom anyway. However TomTom does have the advantage of having the maps and routes in App because it makes the calculation much faster (and cheaper because no 3G traffic is required).
However, perhaps these points don't matter too much after all. In reality, for the past few days I have used Google Maps 5 times and TomTom 1 time as my GPS. As requested by Jacob, I have also tried to use Apple Maps for around 30 secs and then gave up. (By the way I have also downloaded iMelway by Melway and Here Maps by Nokia and only touched them once.) My verdict is easy: I am on the road, driving. I need to be at a place that I don't know, and that's why I need a map. If I know where I am and where I am going, most probably I don't even need a map. The reason why I need a map in the first place is because I need to start from Search. That's Google. From then on, that's all down hill. And that's how Google wins. Start with User Experience. Start with Why. Cheers.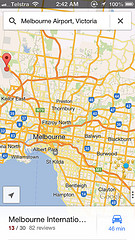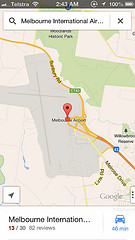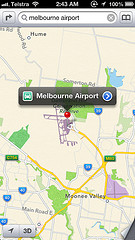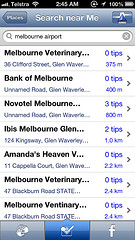 (The first two screens are the direct pages after typing Melbourne Airport at the search box in Google Maps. The third screen is Apple Maps, and the last one is TomTom.)
想在手機閱讀更多
iPhone App
資訊?
下載【香港矽谷】Android應用